Yearly: $24.99 USD

(Renewal: $15.00 USD)

Trial:

7 Days
Promotes creation of content by guests and new registrations without risk of increased spamming.
Add-On Information
The add-on allows guests to create threads/posts replies, and register after they have posted the content. This makes posting on your forums attractive, but handles spam message and invalid registrations automatically by periodically deleting all messages posted by guests, who did not end up registered on your site.
Admin Panel options page allows you to enable/disable posting of threads and replies. Guests see a constant message once they have posted a thread/reply asking them to register or login. If users login with an existing account, their content is automatically associated with their account and made visible. Users are redirected to their content immediately after logging-in. After successful registration the content is associated with the new account, but it is not activated until users confirm their email/are approved by admins. If email confirmation and user moderation are disabled, the content is activated immediately, however, still following the rules of per-forum configuration - forums, which require new thread/new post moderation, will keep the content moderated. The fully-featured quick reply is supported for guests. They are asked to enter their name and pass Captcha test only once they try to actually post the reply. More Options button takes them to usual Reply To Thread page. All official alternative methods of logging in/registering are supported - Facebook, Twitter, Google. Third-party connectors should work fine as well, as long as they follow the same pattern as the official ones. The product comes with special integration with [AddonsLab] Quick Thread add-on which can be enabled in product's settings page. If enabled, the quick thread form will be hidden and replaced with the message asking to register/login once the users post their first thread.
Planned Features
Show message on top of thread/post, informing moderators, that the content was posted by a guest
Any suggestions are welcome and will be considered by us.
Pricing
Add-on costs $24.99 USD that includes one year of support and updates with permanent access to product versions released in license validity period. Yearly extension costs $15.00 USD
The add-on has a visible branding with a link to our website which can be removed for additional $10.00 USD payment.
Trial Version
We offer seven days free trial version on our website. No credit card is required, the service is approved automatically upon registration and confirmation of order.
IonCube Loader is required to run trial version of the product. The full version does not have such requirement and does not have any encoded code in it.
Demo
The product is active on our forums at https://addonslab.com/forums/ and can be tested at https://addonslab.com/forums/test-forum.3/
Registered user accounts
Username: user1 Password: userpass
Username: user2 Password: userpass
Admin account Username: admin1 Password: adminpass
Licensing Information
You will get a License Key upon purchase/trial subscription, which will be available in My Services page at https://customers.addonslab.com/marketplace.php/my-services/ The key should be entered in product's Options page in XenForo Admin Panel.
Once entered and saved you will see full details about your current license status. The key can be used only on one board and one server, so if you move the board, you need to Reissue the license in My Services page.
The product does not include any callbacks, that execute on page load time on front-end or via cron jobs. License check is done only when you edit/save product's options or upgrade the product to the next version.
We require valid XenForo license to purchase the product. You will be asked for XenForo License validation information during the purchase.
Full details at https://addonslab.com/threads/product-licensing-information.81/
Support
Support will be provided in the Discussion Thread at XenForo.com and in our Support System at https://customers.addonslab.com/submitticket.php
Feel free to contact us with any issues you find in the product or any suggestions.
Check out our free and paid XenForo add-ons in our Marketplace at https://customers.addonslab.com/marketplace.php
Screenshots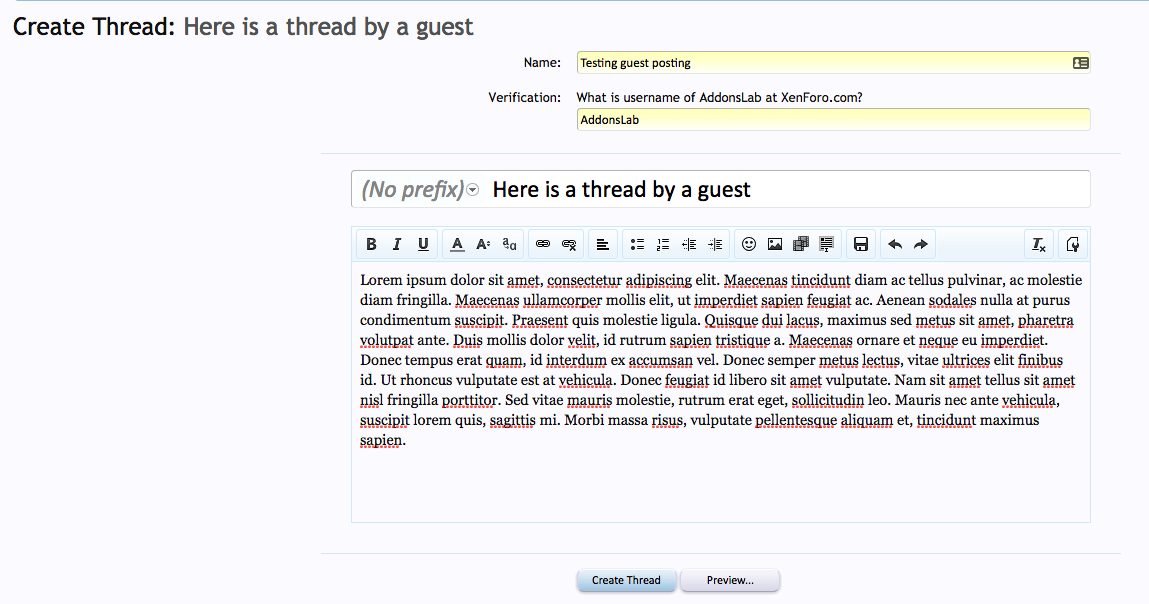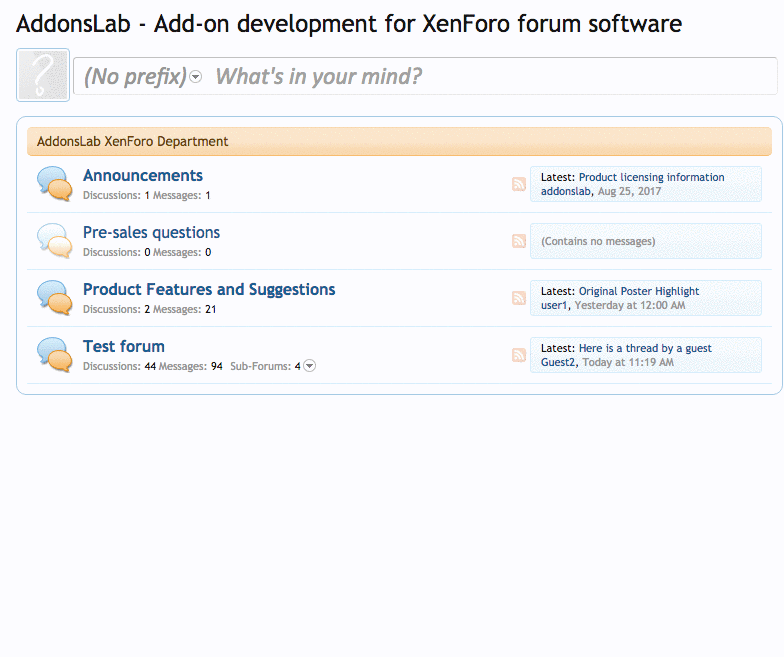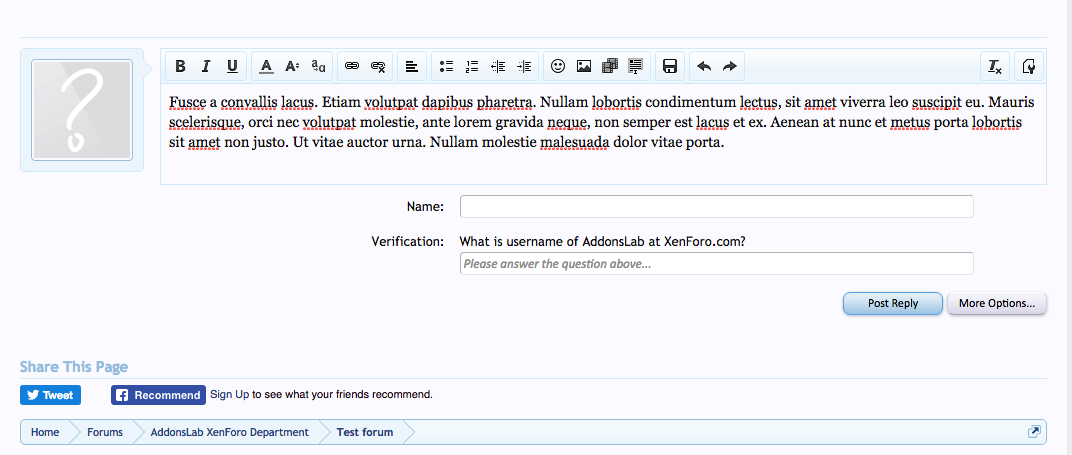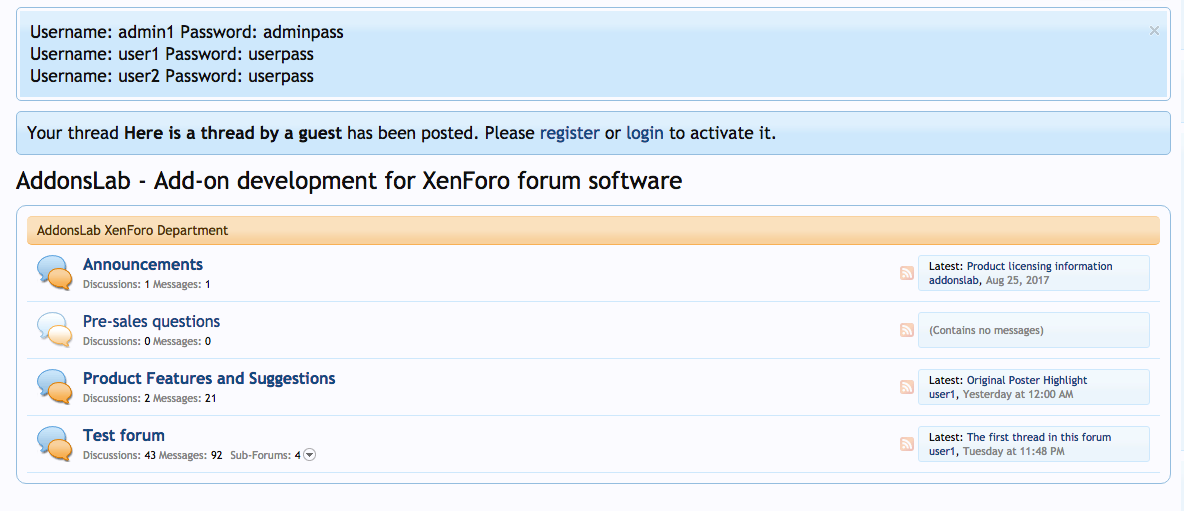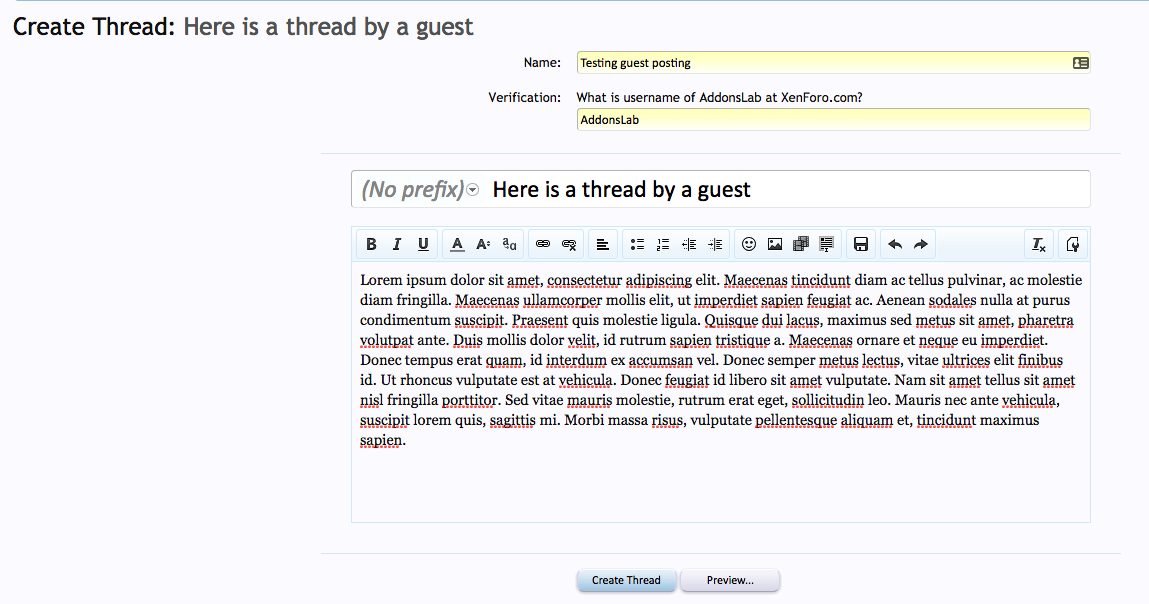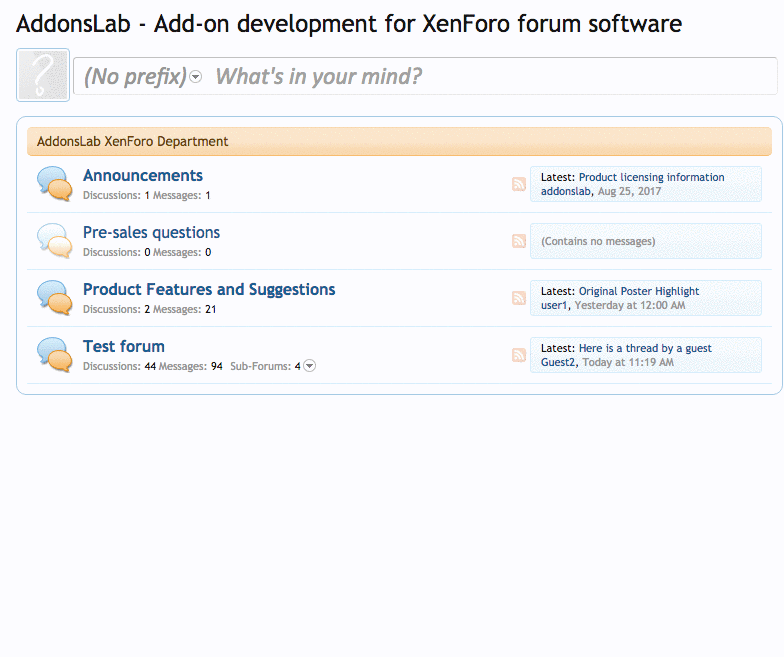 Version: 1.4.3
Release date: 2018-07-31
This release fixes the compatibility issue with [TH] Most Liked Posts add-on.
Version: 1.4.2
Release date: 2018-07-13
This version fixes the compatibility with Quick Thread add-on developed by us. When installed together, the Quick Thread prompt would not appear for guests on the home page.
Version: 1.4.1
Release date: 2018-06-13
This is a bug-fix version which solves the issue with some guest messages disappearing from the moderation queue. The issue would happen when a post/thread by a guest is put for moderation by XenForo system, due to forum settings or anti-spam check. Now these posts will appear in the moderation queue as soon as the user registers/logs in.
Version: 1.4.0
Release date: 2018-03-07
In this release, we have enhanced the product to use "Banned Emails" list automatically to disallow quick registration using these emails. The product still provides another option to ban emails specifically for quick registration, in case you don't want to ban that emails for registration in general.
Version: 1.3.0
Release date: 2018-02-26
In this version we have removed the redundant "Name" field when a guest creates a reply/thread. The username field was not used anywhere and the user was asked to enter the username during registration. We have also reproduced a bug, which would cause the quick registration workflow not to work via full reply interface but would work via quick reply only.
We have also implemented an option for admins to disallow some email domains to be used during quick registration. Users will get an error message if they try to use an email from that email providers.
Version: 1.2.2
Release date: 2018-02-16
This is a bug-fix release, that solves the bug allowing guests to post replies in closed threads.
Feel free to report any issues you have and they will be addressed asap.
Please consider posting a review if you are using the add-on and let us and other users know how it works for you.
Thank you!
Version: 1.2.1
Release date: 2017-11-02
This version fixes the compatibility issue with XenForo built-in spam checking system. Previously, the product would activate the content and make it visible even if it didn't pass spam check at the time of creation. Now the content will remain moderated until moderators approve it. This should also work with other products that force moderated status for a thread or post created by a guest.
Version: 1.2.0
Release date: 2017-10-30
In this version, we have implemented the major feature discussed here - quick registration workflow. When the option is enabled, guests are asked to provide their email address instead of a username when they are trying to post a thread/post. Immediately after the content is posted, they will get an email address asking them to register to activate their content. They will, however, be able to register using usual links on your forum (and the links provided in the notification), but in this case "quick registration" options will not apply. But if they follow the link in the email, they will see their email pre-filled in the registration page, and, optionally, they can skip filling-in human verification again. Admins can also disable email confirmation for users, who followed the link from their email (and those, actually confirmed their email already). If users choose to change the email after landing on register page, they still have to pass human verification and email confirmation as per usual board configuration.
The product also allows admins to configure the time the content posted by guests should remain in the database if the guest did not end up registering on forums. They can also configure, how long the content should stay in the database, if guests register an account, but do not verify their email address.
There is a reminder email sent to users, who posted some content but did not register yet. The time after which the reminder should be sent is configurable in product's options page.
We have also added an option, to specify forum IDs, where the product should be disabled. This allows you to disable it in private nodes (e.g. admin-only forums) so guests cannot create threads there.
With this version, we also started writing automated tests for the product, and have up to 90% of all workflow tested and verified to work as expected. This should increase product stability and decrease the number of bugs in it.
Version: 1.1.2
Release date: 2017-10-09
Here is a bug-fix version, that solves the PHP error logged in some cases, when post/thread datawriters are used in a Cron job.
Version: 1.1.1
Release date: 2017-09-12
This is a bug-fix release of the product, that solves a DB error reported.
Version: 1.1.0
Release date: 2017-09-12
Here is the next release, that optimizes moderation queue usage in the product. Guest-posted threads/replies will not be any more added to the moderation queue. The threads awaiting for registration will not be visible in the thread list to moderators at all and will be listed only if the user registers.
We have also modified the way unregistered/unconfirmed users are handled. If a user does not register within an hour, their thread/post is deleted. If a user registers, but does not confirm the email address (most likely meaning a spammy registration from a non-real email address), their thread/post and user account gets deleted after 24 hours.
Version: 1.0.1
Release date: 2017-09-08
This is a bug-fix release, that solves loading of guest posting JavaScript for registered users, which was causing the quick reply/post edit editors not to function properly.
We have also replaced the phrase "name" with "algp_name" which has the same value "Name". This will appear under quick reply box for guests, so you can customize it.
Version: 1.0.0
Release date: 2017-09-07
Version: 1.5.0
Release date: 2018-10-04
This version implements a new option to keep guest-posted content instead of removing it automatically. This option is useful for the boards, that get useful guest content but have high rate of users not ending up with registration and email confirmation. If the option is enabled, admins gets full control over the content posted, see it in the moderation queue in in forum/thread as a moderated post and can approve it manually instead of waiting for users to register. If an admin approves a thread/post and the user ends up registering later, the content is just associated with user's account.
Another fix is related to SEO. From this version, guest posting will not be enabled if we detect the guest to be a search engine bot. The links to create a thread and reply to a thread will not be shown to Google and other search engines anymore, but if these links have been already indexed they may still be shown in the Dashboard. They will be removed as soon as the search engine re-indexes your pages.
Version: 1.4.3
Release date: 2018-07-31
Bug-fix: compatibility issue with [TH] Most Liked Posts add-on.
Version: 1.4.2
Release date: 2018-07-13
Bug-fix: Quick thread form is not visible on home page for guests
Version: 1.4.1
Release date: 2018-06-13
Bug-fix: content posted by guests not added to the moderation queue after registration
Version: 1.4.0
Release date: 2018-03-07
Version: 1.3.0
Release date: 2018-02-26
removed username field for guest posting
fixed quick registration mode in full post reply page
added an option to disallow some email providers
Version: 1.2.2
Release date: 2018-02-16
Bug-fix: guests are able to post replies in closed threads
Version: 1.2.1
Release date: 2017-11-02
Compatibility with XenForo built-in spam checking system
Version: 1.2.0
Release date: 2017-10-30
Quick Registration workflow
Options to set the time for content deletion
Reminder email to register with time configuration
Option to disable the product in particular forums
Version: 1.1.2
Release date: 2017-10-09
Bug-fix: PHP error logged when running Cron jobs
Version: 1.1.1
Release date: 2017-09-12
Version: 1.1.0
Release date: 2017-09-12
Skip moderation queue for guest content
Do not show threads/posts from guests to moderators until they register
Delete user accounts not confirmed email within 24 hours
Version: 1.0.1
Release date: 2017-09-08
Bug-fix: editor requires two clicks to submit
Phrase changes - name=>algp_name
Version: 1.0.0
Release date: 2017-09-07
Version: 1.5.0
Release date: 2018-10-04
New option - Keep Guest Content
SEO fix - do not enable posting for search engines
Powered by WHMCompleteSolution